About Evelyn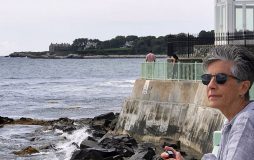 I've spent the past 31 years learning about myself and am a person in long-term recovery. I don't usually lead with this fact because it's not a "professional skill." It did, however, put me on the path toward the work I currently do.
In 1986, I made a decision to enter rehab at Edgehill Newport in RI. Soon after, I was introduced to Kripalu yoga by my friend, Alice. She was one of the first people who helped me understand that recovery is not just about the cessation of substance use but about discovering ways to enrich your life – so you are no longer drawn to substance use.
That first class took place in the instructor's living room where about 6 or 8 people wearing sweatpants moved furniture to make space. We used beach towels for mats on the carpeted floor. I was a skeptic but left with the feeling that this was good for me. I wasn't athletic, I was anxious and shy. The internal focus of yoga suited me perfectly! It was a piece that fit into my early recovery and has remained a strong thread throughout my life. Yoga covered all the bases – physical, mental, spiritual, community. I attended that class every Thursday for the next five years.
I also began making regular visits to the Kripalu Center in Lenox, MA and was lucky to study with some stellar teachers there. I could list the names of notable teachers I've met and studied with since 1986. I could mention all the books I've read and classes and workshops I've taken and taught. The fact is, I learn about yoga every single day from people who don't even realize it. My life has changed and continues to change because of this transformative practice and the people I meet through the yoga community. My personal practice looks nothing like it used to and I hope it will continue to evolve; it helps me to accept that things change.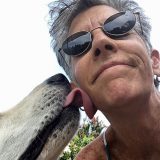 After moving to the Eastern Shore of VA, I went back to Kripalu in 1993 and was certified to teach. Over time, I pursued training in Phoenix Rising Yoga Therapy and that not only deepened by personal practice it  made me a more sensitive teacher. To expand my understanding of anatomy and physiology, I studied through the American College of Sports Medicine and added Health Fitness Instructor (personal trainer) to my list of credentials. For seven years I taught all over the Shore, up and down Route 13. I produced a recorded asana practice that was reviewed by Yoga Journal. I moved back to my home state of NJ in 2000 and led groups and provided private sessions in a thriving community of talented teachers. And then I broke my leg!
Fast forward to 2008 – living in Richmond, VA; going to college (yet again); working as a yoga therapist in a residential facility that treats gambling addiction and substance use disorders. For over five years, I provided personalized yoga and group classes, peer counseling, and aftercare recovery management. It was exciting and fulfilling work. In 2013, I transitioned to an outpatient services clinic offering medication assisted treatment (MAT) for people with opioid addiction. Learning about harm reduction and MAT deepened my gratitude for my own long-term recovery. I met people who were able to make huge changes in their lives with this assistance.
In the middle of 2017, I took the leap back into self-employment. I'm fortunate to share what I've learned with adults and adolescents who are recovering from drug and/or alcohol addiction, problem gambling, and eating disorders. I provide services in private facilities, in the community, and online. I incorporate psychoeducation, professional referrals, yoga asana instruction, yoga nidra, and mindfulness practices in my work with groups, individuals, and families.
One of my early teachers, Stephen Cope, at Kripalu once said, "The best thing you can do for your students is love them."
That seems to work in every area of my personal and professional life!
Podcasts & Videos featuring Evelyn
My Experience
Working in the Recovery Field Since
Credentials


Your Wellness, My Experience
Everyone's needs are different; my experience is diverse. I'd love to hear from you!